Commercial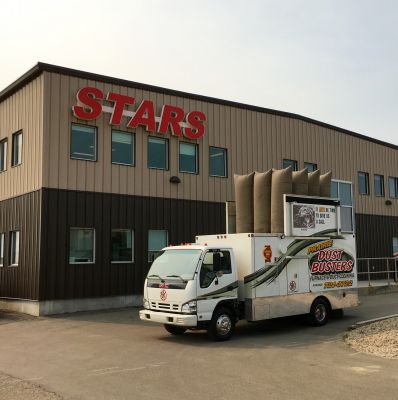 At Prairie Dust Busters we specialize in commercial and industrial buildings. For the past 26 years we have cleaned some of the largest, most difficult and area sensitive H-VAC systems in Saskatchewan. Our Custom Built Vacuum Trucks that were designed and made to our specs are the strongest in the industry, we use 10 and 12 inch suction hoses along with the worlds strongest portable vac machines in the world we can clean any size and configuration ventilation systems.
This filtration system from our HEPA-AIRE machines is so efficient that it captures contaminants 1/300th the diameter of a human hair and returns filter " Hospital Grade" air to your building.
We have the newest in technology and equipment, we do not only believe in air and suction alone to clean the HVAC system we use a direct contact cleaning process called "Source Removal" this is the most advanced in duct cleaning to date. Our direct contact cleaning devices are sent all the way down each branch run and main trunk cleaning ever square inch of duct no matter the size. To learn more on how we clean and for a free estimate please call.
Commercial and Industrial Duct Cleaning in Saskatchewan
Why Your Business Should Call Prairie Dust Busters
One of the most important advantages of Prairie Dust Busters duct cleaning service is the reduction of contaminated air. However, there are other reasons why so many Saskatchewan, Firms and Companies employ our services, to:
* Reduce operating maintenance costs
* Reduce general cleaning costs
* Reduce fire hazards
* Reduce redecorating costs
* Reduce dust on merchandise and display units
* Reduce operating costs
* Reduce employee illness
* Increase air flow
* Increase heating and motor life
* Increase pump and compressor life
* Increase heating and cooling life
* Increase the life of the entire system and improve its operating efficiency
Commerical Clients We Serve
Prairie Dust Busters has cleaned various commercial sites in almost every industry, including:
* Airports
* Banks
* Churchs
* City Agencies
* Federal Government Agencies
* High Rise Buildings
* The Most Highly Sensitive Lab Buildings In Our Province
* Provincial State Agencies
* Schools
* Seniors Home
* Transport Companies
* Medical Buildings
* Utilities
* Museums
* Hotels
Prairie Dust Busters has cleaned air ducts in numerous industrail plants, such as:
* Factories
* Coal Mines
* Power Plants
* Petroleum Plants
* Potash Mines
---